WHAT'S THE DIFFERENCE BETWEEN SANTOKU AND CHEF KITCHEN KNIVES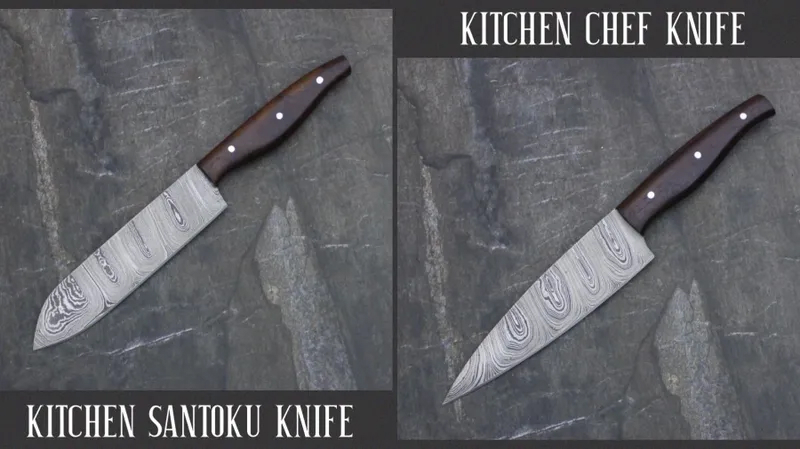 WHAT'S THE DIFFERENCE BETWEEN SANTOKU AND CHEF KITCHEN KNIVES
Both home chefs and professional chefs use Handmade Kitchen Santoku and Chef's knives for a variety of cutting tasks. Both types of cutlery have their respective functions in a knife set. Yet there are some important distinctions. Both forms of cutlery have their respective uses in a kitchen knife set. They differ in terms of shape and design, as well as cutting methods and techniques. The chef's knife is the most useful knife for cutting, chopping, and slicing. Because of its broad blade, it is useful for cutting vegetables but not so good for slicing meat or fish. Perhaps santoku knives are better for this. Both are constructed of various materials such as ceramic or metal. Steel knives are preferred by most professional cooks due to their durability and strong corrosion tolerance.
HANDMADE KITCHEN SANTOKU KNIFE
A Japanese-style santoku knife is a multi-purpose knife that may be used to cut, slice, and chop. The term santoku means "three virtues" which defines itself that there are three popular applications of the blade.
HANDMADE KITCHEN CHEF KNIFE
A handmade knife, sometimes known as a chef's knife, is a useful and widely used type of kitchen knife that is more prevalent in the Western world. While this sort of knife resembles a santoku knife and can do many of the same functions, it differs in its basic construction and design.
DIFFERENCE BETWEEN HANDMADE KITCHEN SANTOKU AND CHEF KITCHEN KNIFE THE BLADE SHAPE, LENGTH, OR WIDTH
A Handmade Kitchen Chef Knife has a blade tip that enables the chef to naturally 'slide' the blade forward as they finish their cut. The lack of a point on the Santoku knife allows for a single downward cut. While many chefs use the swaying method effectively, the Santoku approach is faster and more efficient. The first difference is the length of the blade. While they look to be quite similar. Chef's knives are frequently longer. The Santoku knife evolved from the larger-bladed Nakiri knife. As a result, it bears a little extra weight for the blade's balancing. Unlike the chef's knife, the Santoku blade has a straight edge on one side that leads to a less visible tip. This enables you to chop without accidentally cutting the food.
BLADE MATERIAL
This difference may depend on the processes of their respective origins. The Santoku knife is constructed of Japanese steel, which makes it heavier. When combined with its boxier structure, it makes it a superior chopping knife. The majority of Santoku knives are made of high carbon steel, whereas the most of chef's knives are made of ThyssenKrupp German stainless steel.
DESIGN OF THE HANDLE
Santoku knives from chef's knives are also different in terms of handle style. A bolster on a western-style chef's knife gives better control of the knife. This is a benefit for less experienced chefs. Santokus are often fastened to the handle without a bolster.
USES
Chef knives have broader blades than Santoku knives, which have thinner blades. As a result, chefs use santoku blades for creating ultra-thin slices. Chef knives' broader blades make them more useful for cutting flesh, yet depending on the size of the piece, a chopper may be more suited for the task. On a cutting board, use a jerking motion with either knife to practice precise cutting, chopping, mincing, or peeling.
SHARPENING OF KNIVES
Sharpening is the process of modifying the blade angle of a knife. Because the blades can get dull over time, they must be sharpened frequently. Sharpen the blade of a chef's knife on both sides with a whetstone sharpener or a manual steel sharpener. To finish, use an electric or manual knife sharpener with fine, medium, or coarse slots. Santoku knives are easier to sharpen than French knives since the blade is thinner and does not need to be sharpened as frequently.
WHICH ONE YOU SHOULD CHOOSE?
Although the forms of a chef's knife and a santoku knife differ significantly, both may be used to perform the same tasks. Because there isn't much difference in performance. The choice between these knives comes down to personal preference. A good chef's knife should serve if you want an all-purpose knife that can effortlessly chop, slice, and dice vegetables and other items. And if you want a more accurate blade for chopping or mincing smaller foods such as garlic or onions, a santoku may be ideal for your kitchen. You can visit our store and after deciding as per your requirements, choose the best suitable knife. Or visit our blog page for more details.
Related posts