THINGS TO LOOK FOR WHILE CHOOSING A HUNTING KNIFE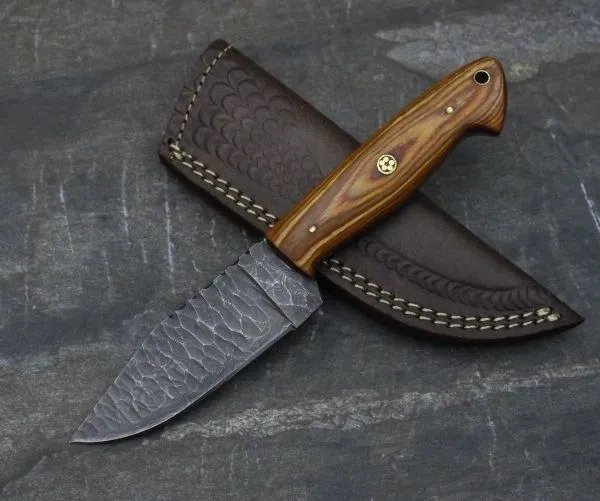 THINGS TO LOOK FOR WHILE CHOOSING A HUNTING KNIFE
Buying the right knife is more than just a tool. It's an extension of your arm. It's as much a part of your outfit as any other piece of gear, but simply carrying a knife won't do you much good on the hunt if it's not well-suited for the task at hand. Finding the right one for you can prove to be difficult given all the options out there.
Choose a knife that's best suited for the chores it's intended to perform. If you plan to use it mostly in skinning, then buy a skinning knife. If you bought it as a multi-purpose tool and will use it to handle multiple tasks, then take a look at the design of the whole knife to determine if it's right for your needs.
Fixed-blade hunting knives have been popular since the dawn of time, but modern versions have more features than our ancestors could ever have imagined. If you want a general-purpose knife that can be used for a variety of tasks, be sure it's made with all the features you need. A good traditional fixed-blade hunting knife is adequate for field-dressing and skinning games and other jobs such as cutting rope or twine, whittling tinder for fire-building, and cutting up food.
Following are some of the features which you must keep in mind while buying a hunting knife.
GUT HOOK:
The Gut Hook is an optional feature available on a hunting knife. The gut hook is used for quickly cutting open the belly or chest cavity of a prized kill to allow for easier cleaning, skinning, and removal of internal organs. It is best for those individuals who prefer this added convenience in their hunting knives.
BLADE STYLE:
A hunting knife is an invaluable tool for all types of outdoor activities. Whether you're scaling fish or gutting game, the type of blade style you choose is also a matter of preference. The three main types are drop point, skinning blade, and clip point. The drop point runs from the spine to the tip in a curved manner that creates a lower point.
The drop point is perfect for hunting knives because it offers more control and durability, with plenty of belly for slicing, while still having a more controllable tip to prevent nicks. One other style that many consider perfect for hunting knives is the modified semi-skinner, which has a spine that curves upward, then back down toward the point.
The clip point of a knife makes it perfect for hunting and skinning games. The blade is constructed from thick, high-carbon steel that's been sharpened to a fine edge. The sturdy handle is designed to allow for reliable grip in any weather conditions.
FIXED VS FOLDING KNIFE:
A fixed-blade knife is undoubtedly more durable and takes up less space than a folder. However, they are not as common in the wild, and many people prefer to use folders instead. If you can afford both, then a fixed blade knife is the best option.
ERGONOMIC OR NON-SLIP HANDLE:
The handle is one of the most important features of any hunting knife. A handle that is broad and has some texturing for good grip when wet makes for a safe knife. Good handles can also make the dressing game easier and more efficient.
KNIFE SHEATH:
A sheath is an important part of any hunting knife. The purpose of a sheath is to protect the blade and keep it secure while you're on your adventure. They come in multiple materials, but most are made out of leather. A good sheath will allow for easy transportation without being cumbersome or inconvenient at all.
HANDGUARD:
When you're out hunting, stalking, and tracking game, the last thing you want is to slip on wet leaves and accidentally slice open your hand. The right-hand guard prevents this by locking your fingers securely in place while you dress an animal.
Now that we've got through the basics to consider before taking the final step. You should have a look through our esteemed selection of hunting knives over at www.grizzlyblades.com. With a variety of handles, blade designs, and sizes you're likely to find a knife that fits your hunting needs.