GBKN38-2 SET OF TWO DAMASCUS STEEL CUSTOM HAND MADE KITCHEN STEAK & CHEF KNIVES 9.5" &1 3.5"
C$288.00 C$218.00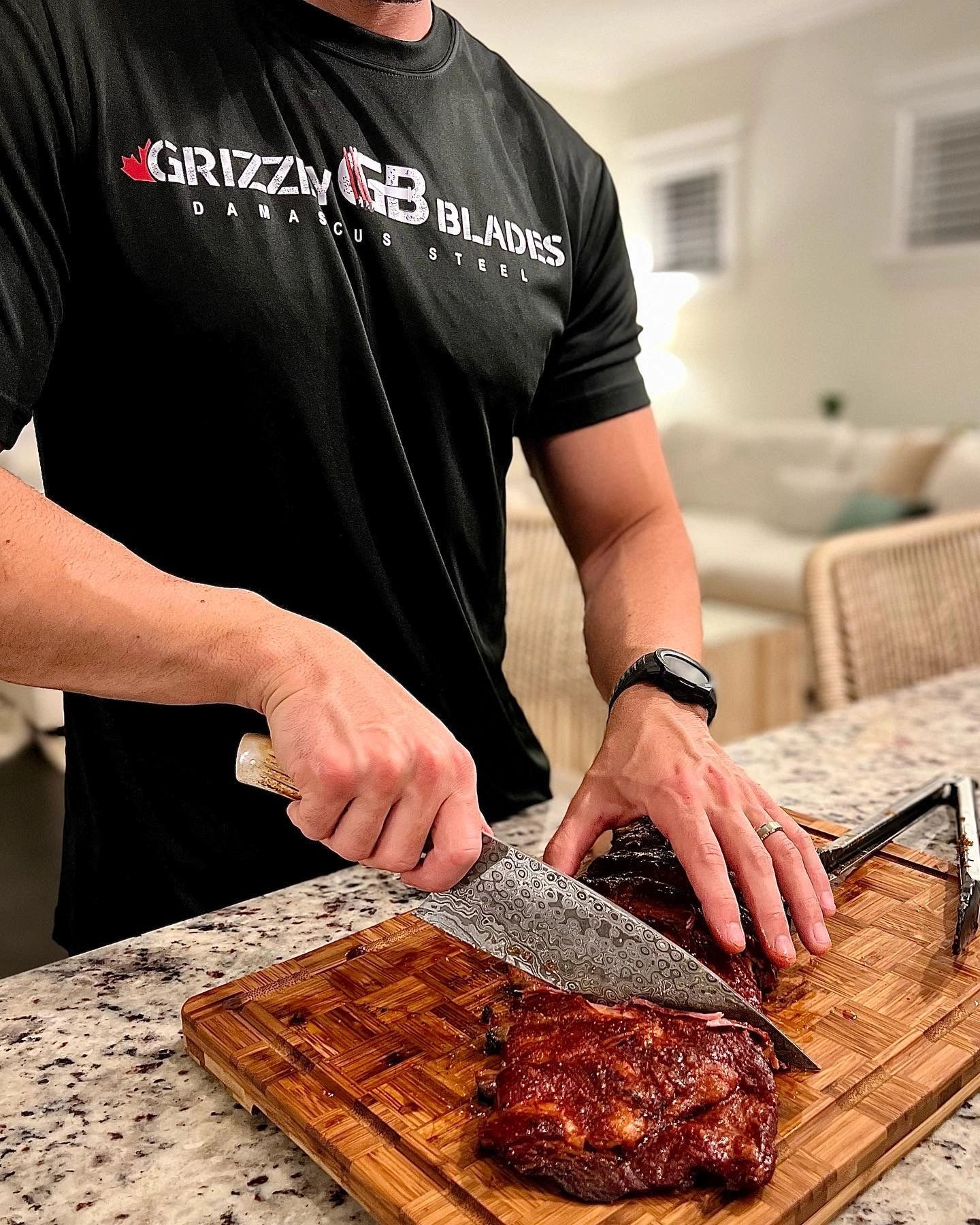 WE ARE OFFERING ENGRAVING CLICKHERE

DESCRIPTION:
KITCHEN CHEF KNIFE 
OVERALL LENGTH: 13.5"             
BLADE LENGTH: 8.5"          
SHEATH MATERIAL: 
COWHIDE LEATHER
HANDLE DESCRIPTION:
-BURN JIGGED CAME BONE.
-MOSAIC PIN.
KNIFE WEIGHT: 361 GRAMS.
___________________________________________________________
KITCHEN STEAK KNIFE 
OVERALL LENGTH: 9.5"             
BLADE LENGTH: 4"          
SHEATH MATERIAL: 
COWHIDE LEATHER
HANDLE DESCRIPTION:
-JIGGED BURN CAMEL BONE.
-MOSAIC PIN.
KNIFE WEIGHT: 191 GRAMS.
 Masaharu Morimoto said it well "A kitchen without a knife is not a kitchen."
Grizzly Blades Damascus Steel Custom Handmade Kitchen Knives are ergonomically designed, aesthetic, functional, durable, superior control, perfect balance, agility and have comfortable natural Material handles.
Offering Best Traditional Damascus steel custom handmade Kitchen Knives with
Different Pattern and Design. Our Professional Chef Knife, Santoku Knife, Vegetable
Knife, Steak Knife, Hunting Kitchen Knife, Hunting Cleaver, Kitchen Cleaver, Serbian
Cleaver, and Butcher Cleaver are high-end blades that are hand-forged Damascus steel; pattern-welded in-house combining 1095 tool steel and 15N20 nickel tool steel. The hardness of this Damascus blade is rated at 55 to 58 HRC on the Rockwell scale which holds the sharpness for a long time. This superior Damascus Steel hardness maintains a keen cutting edge at all times.
Each knife undergoes strict quality control to ensure the flawless craftsmanship that Grizzly Blades has become known for. The entire knife is handmade at our facility from forging the Damascus billet to stitching the custom-fitted quality leather sheath with a vertical carry belt loop for easy fastening. Our Canadian knife makers are the leading producers of carbon Damascus steel in the world. Our unique small production, the customs process allows us to make the finest Handmade Kitchen Knives handcrafted with precision and care in Toronto, Ontario, Canada. Also purchased around the world at a fantastic price.