IS DAMASCUS STEEL KNIFE WORTH USING AS A KITCHEN KNIFE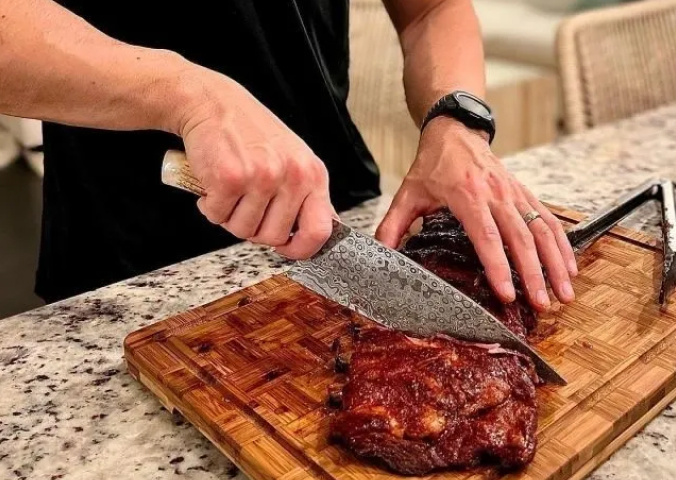 IS DAMASCUS STEEL KNIFE WORTH USING AS A KITCHEN KNIFE?
There's nothing more annoying than getting ready to do some meal prep and finding that your knife isn't slicing through those vegetable skins as smoothly as when the professionals do it. Having to go over those diced veggies again gets you less motivated about cooking, and you curse the day you picked fresh produce over canned alternatives. In the era of takeout culture, we want our cooking experience to be as frictionless as possible – and for that, we need the right tools to get the job done!
Damascus steel knives have been the weapon of choice of elite warriors over the centuries – but what if one's arena is a modern kitchen? What then, would a keen culinarian opt for, to slice and dice through the challenges of a kitchen. Today we will discuss the suitability of Damascus steel knives for the kitchen and help you decide if they're a good addition to your knife block.
A LITTLE BIT ABOUT DAMASCUS STEEL
Damascus steel is a type of steel characterized by its unique pattern of alternating light and dark waves, that gives the illusion of running water over metal. Hard to resist putting such a beautiful piece on display so as not to damage this design – yet Damascus steel's mettle has stood the test of time. It is known to be strong, durable, and flexible.
Another feature of Damascus steel that makes it particularly suitable for use in an everyday kitchen is that it maintains its edge for longer and does not need to be honed or sharpened too frequently – a boon to the lazy cook! Legend had it that when held still, a Damascus steel blade had the ability to cut through a falling silk scarf (variations of this tale say a falling feather).
The critical mind casts such accounts aside as exaggerations of course, but the personal experience won't leave you disappointed. There won't be an onion, a carrot, or a leek than a Damascus steel kitchen knife won't cleanly cut through in your weekly meal preps!
HOW DOES DAMASCUS STEEL ADAPT TO THE KITCHEN?
Whether you're an amateur cook or a professional, a good knife is an indispensable tool in the kitchen. Apart from bringing efficiency and functionality to the table, it can simply make the process of cooking a more enjoyable experience for everyone involved. No one wants to get in the kitchen after a long day and have the process of cooking prolonged due to a blunt knife, or one that's not suited for the job.
Due to the excellent combination of features of Damascus steel, it is a very suitable material for crafting an assortment of kitchen knives that can be used for various purposes. The hardness of the Damascus blades at Grizzly Knives is rated at 55 to 58 HRC on the Rockwell scale, which holds its sharpness for a long time. Take a cleaver for example. A cleaver is a large, relatively heavy utensil used to chop through meat, cartilage, and bone. Compared to other kitchen activities, these are the highest impact uses one would need from a kitchen knife. The strength and durability Damascus steel possesses make it an ideal material to craft such a knife while guaranteeing plenty of use and long life.
Most other kitchen uses can be lumped together as those requiring a sharp and long lasting, keen edge. Damascus steel is high carbon steel known for maintaining a sharp edge for a long time, which makes it ideal for chopping, peeling, slicing, and dicing, for prolonged periods of time and with daily usage.
OUR SPECIALTY
At Grizzly Blades, each one of our handmade Damascus steel knives is crafted at our workshops in Toronto (CA). They undergo strict quality control measures to ensure flawless products at unmatched prices. Each knife comes with a tailor-fitted leather sheath which allows excellent portability for the traveling chef, as a leather sheath does not blunt a knife's edge or scratch it any further. Additionally, each knife has a handmade, custom-built handle that fits the knife securely and you can rest assured that you won't find the handles jiggling around like most knives!
To find our complete collection of Damascus steel custom handmade kitchen knives, and knives tailored for other activities, visit our store.