CUSTOM HANDMADE DAMASCUS STEEL KNIVES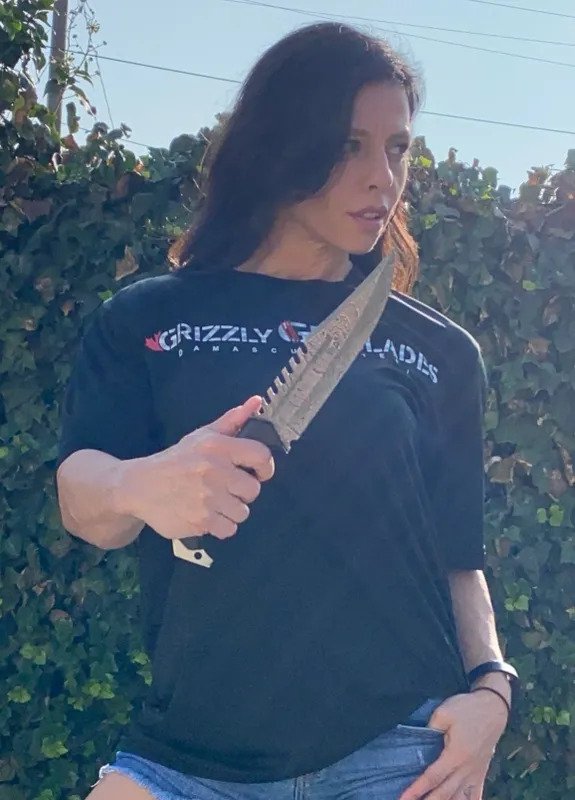 CUSTOM HANDMADE DAMASCUS STEEL KNIVES
Damascus steel knives are regarded by many as the best knives in existence. They are also considered to be the ultimate collector's knives because of their historic value and legendary reliability. With its wavy protrusions designed in a variety of different patterns, you can count on the blade to perform no matter what the job is.
Learn more through this blog for the details about Damascus steel and find answers to the most commonly asked questions about knives that are made from Damascus steel.
FEATURES OF DAMASCUS STEEL KNIVES:
Custom handmade Damascus steel knives do not need to be sharpened as often as other knives. Damascus steel's wavy pattern actually protects your knife, making it last longer than regular steel. This unique steel is highly prized for its beautiful aesthetics, but what it lacks in toughness, it makes up for by being extremely hard and flexible while maintaining a sharp edge.
Forged from one piece of high carbon steel, this knife is hand-polished on both sides and these ornate patterns are formed by hammer-wielding the pieces of steel together. This stunning pattern makes these knives stand out!
HOW ARE DAMASCUS KNIVES MADE?
The best custom handmade Damascus steel knives are made from hundreds of layers of metal welded together, then forged, beaten, and manipulated to form their unique pattern. They are then folded and flattened to produce the organic pattern that defines them. Today's version of this ancient process is generally referred to as the "pattern welding" process, but old-school Damascus is still produced primarily by forge welding different types of steels together before beating, twisting, and manipulating the metal or by flattening out and then folding a single type of steel to produce layers in the metal.
One of the most treasured metals in the world, Damascus steel has been used by countless blacksmiths for generations. Although modern-day Damascus steel may appear similar to ancient Damascus steel, they are actually completely different materials.
HOW TO TAKE CARE OF A DAMASCUS STEEL KNIFE:
Custom handmade Damascus steel knives are known for their dramatic beauty and durability. No one likes to invest all this time into a knife only to have it end up being just a part of your kitchen. Therefore, such a knife requires extra care so that it can be enjoyed daily and not just when you're cooking.
Careful selection, care, and maintenance will help you prolong the life of your Damascus steel knives. It is important that you keep the blades dry and clean to avoid rust and staining. You can remove the etched oxidation that makes the blade's pattern visible using a rough cloth or metal cleaner.
If you want to know the difference between a Survival Knife and an everyday utility knife, try to sharpen your own Damascus steel knives. Soon after washing a Damascus steel knife, you should lubricate the blade with a special wax to protect it from moisture. Keeping the blade away from rust makes sure that the steel's pattern remains as striking and vivid as the day it was hand-forged.
There are several things that you must keep in mind while storing your Damascus steel knives. These knives have to be stored in a dry interior environment, free from fluctuating moisture levels and temperature. A box or a soft case is definitely required to store these knives.
TYPES OF DAMASCUS KNIVES:
Following are some of the best Damascus steel knives having many different styles you can choose from and several benefits which you can gain by using them in your kitchen.
Chef's knife: Its blade provides the knife with incredible strength, enhanced flexibility, and hardness.
Utility knife: The jack of all trades. This one is the high-performance solution for all your kitchen tasks
Meat Knife: Razor-sharp blade of this knife is handmade and works perfectly for slicing, butchering, and serving any kind of meat.
Cleaver knife: This one is a useful tool for brilliant chopping efficiency, such a knife is a chef and butcher's best friend.
Now that we've got through the basics to consider before taking the final step.
You should have a look through our esteemed selection of custom handmade Damascus steel knives over at www.grizzlyblades.com. With a variety of handles, blade designs, and sizes you're likely to find a knife that fits your needs.