Our Site
PAYMENT: 
WE ONLY ACCEPT PAYPAL. YOU DO NOT NEED A PAYPAL ACCOUNT TO PURCHASE OUR PRODUCTS, YOU CAN USE YOUR CREDIT/DEBIT CARD.
CUSTOMER SERVICE:

 WE WORK HARD TO PROVIDE EXCELLENT CUSTOMER SERVICE SATISFACTION. EACH PERSON IS OUR UTMOST PRIORITY. PLEASE FEEL FREE TO NOTIFY US WITH ANY CONCERNS OR ISSUES YOU MAY ENCOUNTER.

DISCLAIMER:
EACH CUSTOMER MUST VERIFY THAT HE OR SHE IS LEGALLY OVER THE AGE OF 18 AS THEY ARE HELD RESPONSIBLE FOR ANY PURCHASE AND/OR USE OF OUR KNIFE PRODUCTS, OUR PRODUCTS ARE INTENDED FOR LEGAL USE ONLY BY RESPONSIBLE BUYERS.  WE (THE SELLERS) ARE NOT ACCOUNTABLE OF ANY MISUSE OF THE ITEMS SOLD. ALSO, IT IS THE CUSTOMER'S DUTY TO BE AWARE OF THE IMPORT FEES AND CUSTOMS DUTIES.
SHIPPING AND HANDLING:
WE USE CANADA POST OR UPS FOR DELIVERY IN CANADA AND FOR DELIVERY IN UNITED STATES WE USE USPS OR UPS WHICH TAKES 4 TO 6 BUSINESS DAYS AFTER THE PAYMENT IS CLEAR. FOR WORLDWIDE SHIPPING WE USE DHL. 
TIPS FOR DAMASCUS BLADES:
THE KNIFE BLADE SHOULD ALWAYS BE CLEAN AND TREATED WITH OIL AFTER USE. PLEASE FOLLOW THE FOLLOWING INSTRUCTIONS:
1. TO PREVENT FROM RUSTING NEVER STORE YOUR KNIFE FOR LONG TIME IN LEATHER SHEATH.
2. LEATHER CAN ABSORB WATER, WHICH WILL RUST THE KNIFE.
3. ALWAYS CLEAN THE BLADE AFTER USING WITH MINERAL OR COCONUT OIL.
MATERIAL LIKE BUFFALO HORN, RAMS HORN, CAMEL BONE AND STAG HORN CAN HAVE CONSISTED IN COLOUR AND HAIR LINE CRACKS AND CAN NOT BE STRAIGHT AND IT COULD EVEN HAPPEN AFTERWARDS.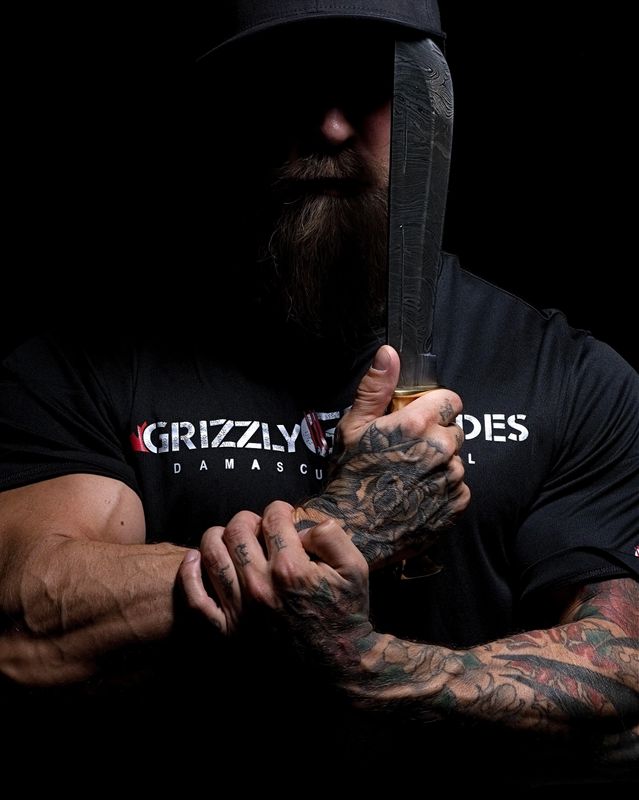 Copyright © 2021 GRIZZLY BLADES