What's the difference between Santoku and Chef Kitchen knives
Both home chefs and professional chefs use Handmade Kitchen Santoku and Chef's knives for a variety of cutting tasks. Both types of cutlery have their respective functions in a knife set. Yet there are some important distinctions. Both forms of cutlery have their respective uses in a kitchen knife set. They differ in terms of shape and design, as well as cutting methods and techniques. The chef's knife is the most useful knife for cutting, chopping, and slicing. Because of its broad blade, it is useful for cutting vegetables but not so good for slicing meat or fish. Perhaps santoku knives are better for this. Both are constructed of various materials such as ceramic or metal. Steel knives are preferred by most professional cooks due to their durability and strong corrosion tolerance.
Handmade Kitchen Santoku Knife
A Japanese-style santoku knife is a multi-purpose knife that may be used to cut, slice, and chop. The term santoku means "three virtues" which defines itself that there are three popular applications of the blade.
Handmade Kitchen Chef Knife
A handmade knife, sometimes known as a chef's knife, is a useful and widely used type of kitchen knife that is more prevalent in the Western world. While this sort of knife resembles a santoku knife and can do many of the same functions, it differs in its basic construction and design.
Difference Between Handmade Kitchen Santoku and Chef Kitchen Knife
The blade shape, length, or width
A Handmade Kitchen Chef Knife has a blade tip that enables the chef to naturally 'slide' the blade forward as they finish their cut. The lack of a point on the Santoku knife allows for a single downward cut. While many chefs use the swaying method effectively, the Santoku approach is faster and more efficient. The first difference is the length of the blade. While they look to be quite similar. Chef's knives are frequently longer. The Santoku knife evolved from the larger-bladed Nakiri knife. As a result, it bears a little extra weight for the blade's balancing. Unlike the chef's knife, the Santoku blade has a straight edge on one side that leads to a less visible tip. This enables you to chop without accidentally cutting the food.
Blade Material
This difference may depend on the processes of their respective origins. The Santoku knife is constructed of Japanese steel, which makes it heavier. When combined with its boxier structure, it makes it a superior chopping knife. The majority of Santoku knives are made of high carbon steel, whereas the most of chef's knives are made of ThyssenKrupp German stainless steel.
Design of the Handle
Santoku knives from chef's knives are also different in terms of handle style. A bolster on a western-style chef's knife gives better control of the knife. This is a benefit for less experienced chefs. Santokus are often fastened to the handle without a bolster.
Uses
Chef knives have broader blades than Santoku knives, which have thinner blades. As a result, chefs use santoku blades for creating ultra-thin slices. Chef knives' broader blades make them more useful for cutting flesh, yet depending on the size of the piece, a chopper may be more suited for the task. On a cutting board, use a jerking motion with either knife to practice precise cutting, chopping, mincing, or peeling.
Sharpening of Knives
Sharpening is the process of modifying the blade angle of a knife. Because the blades can get dull over time, they must be sharpened frequently. Sharpen the blade of a chef's knife on both sides with a whetstone sharpener or a manual steel sharpener. To finish, use an electric or manual knife sharpener with fine, medium, or coarse slots. Santoku knives are easier to sharpen than French knives since the blade is thinner and does not need to be sharpened as frequently.
Which one you should choose?
Although the forms of a chef's knife and a santoku knife differ significantly, both may be used to perform the same tasks. Because there isn't much difference in performance. The choice between these knives comes down to personal preference. A good chef's knife should serve if you want an all-purpose knife that can effortlessly chop, slice, and dice vegetables and other items. And if you want a more accurate blade for chopping or mincing smaller foods such as garlic or onions, a santoku may be ideal for your kitchen. You can visit our store and after deciding as per your requirements, choose the best suitable knife. Or visit our blog page for more details.
---
Handmade Bushcraft Knives, A Complete Guide
Everybody gets a bushcraft knife for different reasons. Some people view knives as collectors' items and admire the technique and craftsmanship that goes into the fabrication of a knife. But what's a knife without utility? –  A tool dating back millennia that's been man's constant companion for survival. Handmade bushcraft knives are arguably the most utilitarian of knives. They can handle an array of outdoor tasks, ranging from the delicacy of carving feather sticks to batoning.
Pick Your Fighter
Chances are, if you've decided you want to purchase a handmade bushcraft knife, you already know what you want it for. However, browsing stores can leave you overwhelmed with options and reeling with decisions to make. You don't just want a knife – you want the perfect knife. An investment that'll carry over with you for years to come.
The best thing to do before you start window shopping is to isolate the purposes you're most likely to need your bushcraft knife for. Are you more of a hunter/skinner? Or maybe you don't like to see your dinner still kicking and are likely to be found at the campsite kitchen. Maybe you're a bit of a pyro and prefer to go out gathering wood to get that bonfire going. Or maybe you're a solo adventurer who must do a little bit of everything for yourself. There's a knife out there for everyone. Knowing specifically what uses you want your handmade knife tailored to can streamline your search for the best knife for you. List out your top priorities and what features go with them to help you eliminate all the fluff.
Features to Consider
A simple but not always obvious consideration for a first-timer would be dexterity. If you happen to be left-handed, give some consideration to the handle and sheath design that might affect how your long-term experience using the knife would be. Removing a knife from its sheath with repeated use tends to become muscle memory and if it isn't a natural movement suited to your style of dexterity, it'll never feel natural to use.
Similarly, another classic mistake is to focus on the blade and ignore the handle. The handle is a pivotal point of consideration for the wielder. Design and construction can affect how long you can use the knife with a comfortable grip and without blistering at the end of a long session of carving. Thumb grips, bolster, and tang level are all matters of preference that can affect your ease with a knife. Different levels of tang construction attempt to balance weight with durability and rigidity. The tang of your knife will affect their portability but also their use, as heavy forces might cause some tangs to split from the knife. This is why we emphasize putting thought into the purposes for which you will be using your knives.
Of course, the blade itself has points of significance as well. The material can impact a knife's properties to a large degree. Carbon steel is a common material used in blade fabrication. While it's easily available and affordable, it comes with a high risk of corrosion and rust if not maintained frequently. They are, however, fairly easy to sharpen.
Another alternative is Damascus steel, known for its uniquely forged strength. Damascus steel is renowned for being harder and holding its edge longer compared to other steels. It also has a characteristic wavy pattern that adds a delicate beauty to a lethal blade.  The uncommon strength and endurance of Damascus steel led to myths originating as to the source of the steel itself, and one of the legends held that Damascus steel was quenched in dragon blood. Of course, time and testing have revealed that it is not dragon blood, but the origin of the ore itself that lent Damascus steel its unique properties.
Now that we've covered the essentials to consider before taking the final leap, have a look through our curated selection of handmade Damascus steel bushcraft knives over at www.grizzlyblades.com. With a variety of handle and blade designs, sizes, and even one-of-a-kind handmade knives, you're likely to find a knife that fits your bushcraft needs both stylistically, and functionally. We also have a wide selection ranging from pocketknives to axes all crafted with expertise in our signature Damascus steel.
---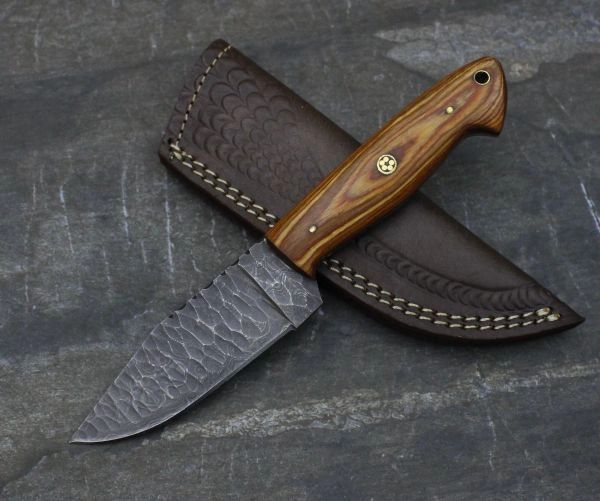 THINGS TO LOOK FOR WHILE CHOOSING A HUNTING KNIFE
Buying the right knife is more than just a tool. It's an extension of your arm. It's as much a part of your outfit as any other piece of gear, but simply carrying a knife won't do you much good on the hunt if it's not well-suited for the task at hand. Finding the right one for you can prove to be difficult given all the options out there.
Choose a knife that's best suited for the chores it's intended to perform. If you plan to use it mostly in skinning, then buy a skinning knife. If you bought it as a multi-purpose tool and will use it to handle multiple tasks, then take a look at the design of the whole knife to determine if it's right for your needs.
Fixed-blade hunting knives have been popular since the dawn of time, but modern versions have more features than our ancestors could ever have imagined. If you want a general-purpose knife that can be used for a variety of tasks, be sure it's made with all the features you need. A good traditional fixed-blade hunting knife is adequate for field-dressing and skinning games and other jobs such as cutting rope or twine, whittling tinder for fire-building, and cutting up food. 
Following are some of the features which you must keep in mind while buying a hunting knife.
GUT HOOK:
The Gut Hook is an optional feature available on a hunting knife. The gut hook is used for quickly cutting open the belly or chest cavity of a prized kill to allow for easier cleaning, skinning, and removal of internal organs. It is best for those individuals who prefer this added convenience in their hunting knives.
BLADE STYLE:
A hunting knife is an invaluable tool for all types of outdoor activities. Whether you're scaling fish or gutting game, the type of blade style you choose is also a matter of preference. The three main types are drop point, skinning blade, and clip point. The drop point runs from the spine to the tip in a curved manner that creates a lower point.
The drop point is perfect for hunting knives because it offers more control and durability, with plenty of belly for slicing, while still having a more controllable tip to prevent nicks. One other style that many consider perfect for hunting knives is the modified semi-skinner, which has a spine that curves upward, then back down toward the point.
The clip point of a knife makes it perfect for hunting and skinning games. The blade is constructed from thick, high-carbon steel that's been sharpened to a fine edge. The sturdy handle is designed to allow for reliable grip in any weather conditions.
FIXED VS FOLDING KNIFE:
A fixed-blade knife is undoubtedly more durable and takes up less space than a folder. However, they are not as common in the wild, and many people prefer to use folders instead. If you can afford both, then a fixed blade knife is the best option.
ERGONOMIC OR NON-SLIP HANDLE:
The handle is one of the most important features of any hunting knife. A handle that is broad and has some texturing for good grip when wet makes for a safe knife. Good handles can also make the dressing game easier and more efficient.
KNIFE SHEATH:
A sheath is an important part of any hunting knife. The purpose of a sheath is to protect the blade and keep it secure while you're on your adventure. They come in multiple materials, but most are made out of leather. A good sheath will allow for easy transportation without being cumbersome or inconvenient at all.
HANDGUARD:
When you're out hunting, stalking, and tracking game, the last thing you want is to slip on wet leaves and accidentally slice open your hand. The right-hand guard prevents this by locking your fingers securely in place while you dress an animal. 
Now that we've got through the basics to consider before taking the final step. You should have a look through our esteemed selection of hunting knives over at www.grizzlyblades.com. With a variety of handles, blade designs, and sizes you're likely to find a knife that fits your hunting needs.
---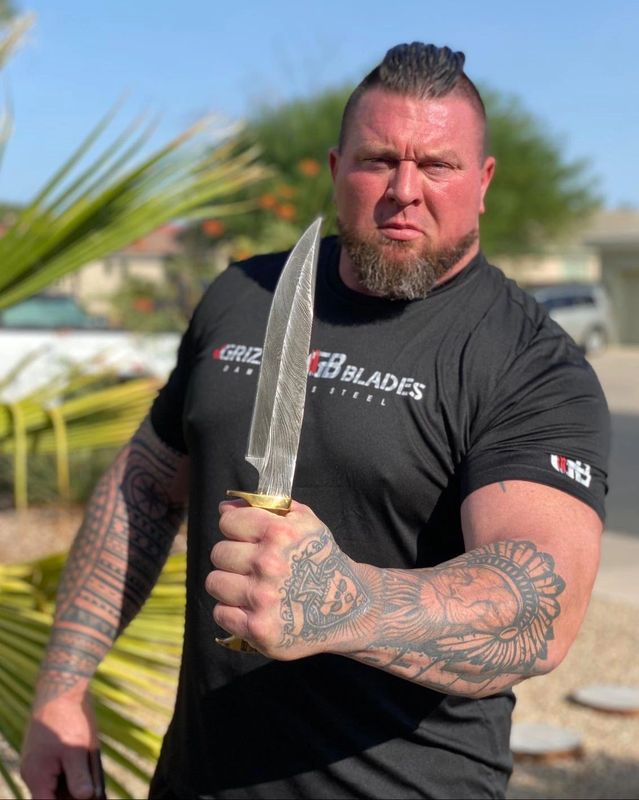 Handmade Hunting Bowie knife in America
The USA is familiar with creating large and fixed blade survival knives. The handmade hunting Bowie knife is an American design.  A handmade Bowie knife can be used as a sustenance weapon when hiking or hunting. It's designed for self-defense and is frequently used by hunters for killing and dying. If you want to acquire various types of knives, a Bowie knife is a must-have. Because there is a growing interest in them. 
Jim Bowie created a hunting Bowie knife that resembles a sword. The knife was once termed the "Killer Knife" when it was first manufactured. However, because of its sharp edge, it has recently become popular. These stainless steel knives have an access point as well as a hand guard.
The key benefit of handmade hunting Bowie knife is its length which provides support to chop, scrape, and cleanse. The length of the blade will undoubtedly vary. You can get the customized Bowie knife length according to the requirement.
You may adjust the length and thickness of the blade to meet your requirements. Bowie knife is among the hunter's favorite choices. Hunting Bowie knife is among the hunter's favorite choices. The comfortable grip handle improves the holder's expertise by allowing them to handle those tricky places while hunting.
In the case of a survival crisis, food and shelter should be easily available. If you have a Bowie knife, your eating options massively increase. It may be used to hunt, kill, and clean up your prey. If you need cover, use your Bowie knife to cut leaves and plants to make a living-built home. Many Bowie knives include a saw or a large syringe attached to the back of the blade, allowing them to be used as a multi-purpose knife.
Which hunting Bowie knife you should choose?
We are going to discuss different hunting Bowie knives and their features. You can go through the description and choose the best suitable one for you.  Here are some of the best American Bowie knives:
DAMASCUS STEEL HANDMADE BOWIE
Damascus Knives is well-known for producing Damascus steel outdoor equipment such as hunting knives, steel blade axes, leather cases, and tools. Damascus steel Bowie Knife is a series of fixed blade knives with wooden, deer, and mahogany handles, Damascus steel blades, and leather belt sheaths.
Fixed blade knives are among the most popular sustenance knives due to their robust and durable design. Fixed blade knives are simple to maintain, have a bigger blade, and may be used for mining, cutting, splitting, preparing food, hunting, pounding, and first aid. Fixed blade knives can be utilized in strategic scenarios and calamities.
BUCK 916 BOWIE 
This is used as a museum piece, but Buck eventually saw reason and made it available to the world's less eager knife swingers. This knife has several features that appeal to people who already enjoy Buck knives.
It has a prominent clip point and a handle made from natural materials. The sheath is made of high-quality leather. This was meant as a Bowie knife for hunting and survival, but as a high-priced Buck knife with a few dozen handle materials to select from, makes it a pretty great endowment and display piece.
BEAR & SON CUTLERY AMERICAN BOWIE 501D
Bear and Son Cutlery's 501D American Bowie has a classic design, a high-quality Damascus steel blade, and a deer bone grip. For almost eight years, this has been a very popular Bowie knife in America. 
This is because of the knife's attractive appearance, but it is also durable enough to be used as a combat or defensive knife if you're the type of person who uses a knife with a Damascus blade.
Things you should consider while choosing a Bowie knife
Because there are so many different Bowie knives available, it's vital to know how you want to use your knife before selecting one. Although Bowie knives are quite versatile, different characteristics might make particular versions superior for specific purposes. An extra-long blade, for example, isn't suitable for scrubbing wildlife or dealing with wood.
Firstly, analyze the durability of a Bowie knife. You want to ensure that your purchase will survive, especially if you will be using it frequently. Consider the metal used to make the blade, as well as the handle. Micarta is a preferred handle material, however, plastic will not provide the same level of long-term endurance.
You can shop for the best Bowie knife by visiting our store. In our store various Damascus Steel Handmade Bowie knives are available.
---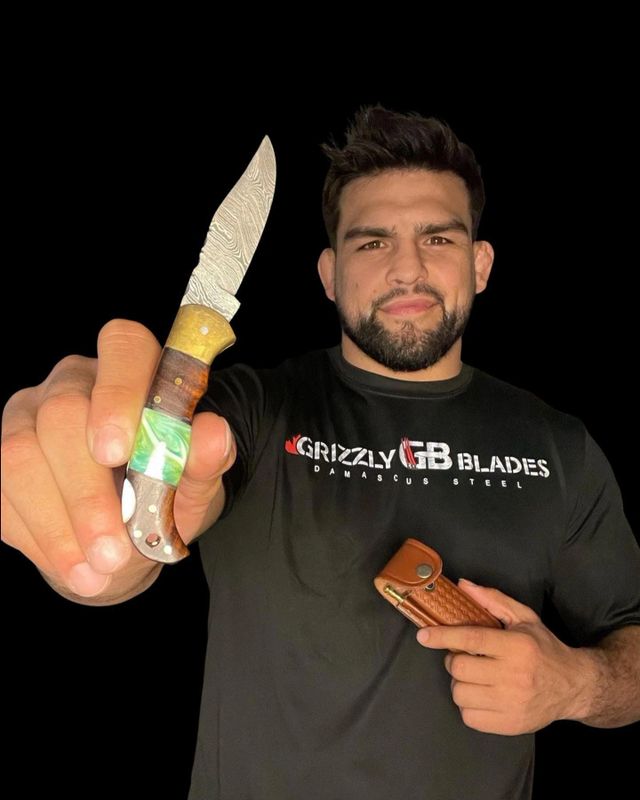 Why carrying a pocket knife is useful
There could be many reasons why someone may choose to carry a pocket knife at all times, even in the modern day. If you are looking for reasons to add to your collection or a gift for someone who may appreciate the convenience and class of a handmade Damascus steel knife, then we have some more reasons to convince you to do just that.
The obvious advantages
Unless you have criminal intentions (and we hope you don't !), it is always better to be armed with a weapon, or in this case; equipped with a tool. There are a lot of benefits that come with carrying a pocket knife and convenience is just one of them. A good pocket knife can make your life safer, easier, and more productive. The fact that it is in a size that can be easily carried in your pocket is just another advantage.
Cutting, Shredding, and Tearing
The most obvious thing to do with a sharp blade is to use it for the purpose it is built for. A handmade Damascus Steel knife, foldable or not, can be used in many day-to-day tasks. It could be used as a box, package, or letter opener, to cut open sachets of ketchup and stubborn knots on plastic bags and ropes, to peel and slice fruit and cakes, and bandages for first aid.   
Multi-purpose
Most pocket knives come with multiple utilities that include a screwdriver, scissors, and a few other tools. And these are all just extra perks to having a fancy pocket knife. Whether you need to open packaged food or cut through thorny twigs when on a hike, a pocket knife will help you get through.  However, a good quality pocket knife should be able to handle most if not all the tasks that one may require additional tools for.
For Emergencies and Self Defense
This may be the most obvious use case for a pocket knife: To have a weapon when you need it. You could get into an accident where you'd need to cut through some of your clothes to dress the wound, or even shred wood into smaller pieces to start an outdoor fire on a camping trip. If needed, you can also use it to remove splinters and thorns from clothing and skin, and provided you have an idea of what you are doing; you can also heat up your knife blade to treat a wound.
This would be particularly useful if your blade is a handmade Damascus steel knife as they have been traditionally used for first aid purposes. If you are a woman, or in danger of assault, just flashing a weapon can help sway people approaching you with ill intentions. Although the chances of this happening are weak, it is best to be prepared for danger, just in case.
Carry a pocket knife when:
Camping
Fishing
Trekking
Traveling
Walking alone at night or in isolated places
Pocket knives made of Handmade Damascus Steel
While an ordinary pocket knife would be useful in most of the situations mentioned above, one made of Damascus steel would be ideal if you are trying to add it to a collection or if it is a gift for someone who would appreciate it
Damascus steel is hand forged in a high volume of heat, has a unique pattern made from sheets of steel and iron is extremely sharp. Blades made from the material can be cut through various materials like wood, hard plastic, and even leather. A good pocket or folding knife would have a metal, wood, or leather grip that adds to the durability and comfort of holding it. This is why a knife made of Damascus steel is simply superior.
If you are looking for handmade Damascus Steel folding knives that are unique and premium for a collection or a gift for an enthusiast, then Grizzly Blades deals in genuine Damascus steel knives including folding knives, chef knives, bowies, and skinners. They offer exclusive designs, convenient shapes, and comfortable handles that are meant to last a lifetime. They are based in Toronto, but they ship all over the world so you can get your collector's item no matter where you live.
---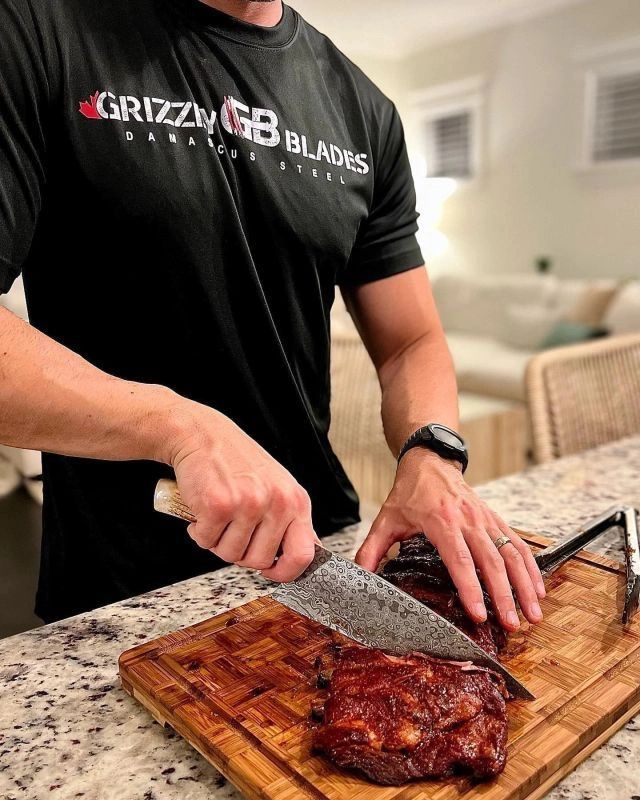 Is Damascus steel knife worth using as a kitchen knife?
There's nothing more annoying than getting ready to do some meal prep and finding that your knife isn't slicing through those vegetable skins as smoothly as when the professionals do it. Having to go over those diced veggies again gets you less motivated about cooking, and you curse the day you picked fresh produce over canned alternatives. In the era of takeout culture, we want our cooking experience to be as frictionless as possible – and for that, we need the right tools to get the job done!
Damascus steel knives have been the weapon of choice of elite warriors over the centuries – but what if one's arena is a modern kitchen? What then, would a keen culinarian opt for, to slice and dice through the challenges of a kitchen. Today we will discuss the suitability of Damascus steel knives for the kitchen and help you decide if they're a good addition to your knife block.
A Little Bit About Damascus Steel
Damascus steel is a type of steel characterized by its unique pattern of alternating light and dark waves, that gives the illusion of running water over metal. Hard to resist putting such a beautiful piece on display so as not to damage this design – yet Damascus steel's mettle has stood the test of time. It is known to be strong, durable, and flexible.
Another feature of Damascus steel that makes it particularly suitable for use in an everyday kitchen is that it maintains its edge for longer and does not need to be honed or sharpened too frequently – a boon to the lazy cook! Legend had it that when held still, a Damascus steel blade had the ability to cut through a falling silk scarf (variations of this tale say a falling feather).
The critical mind casts such accounts aside as exaggerations of course, but the personal experience won't leave you disappointed. There won't be an onion, a carrot, or a leek than a Damascus steel kitchen knife won't cleanly cut through in your weekly meal preps!
How Does Damascus Steel Adapt to the Kitchen?
Whether you're an amateur cook or a professional, a good knife is an indispensable tool in the kitchen. Apart from bringing efficiency and functionality to the table, it can simply make the process of cooking a more enjoyable experience for everyone involved. No one wants to get in the kitchen after a long day and have the process of cooking prolonged due to a blunt knife, or one that's not suited for the job.
Due to the excellent combination of features of Damascus steel, it is a very suitable material for crafting an assortment of kitchen knives that can be used for various purposes. The hardness of the Damascus blades at Grizzly Knives is rated at 55 to 58 HRC on the Rockwell scale, which holds its sharpness for a long time. Take a cleaver for example. A cleaver is a large, relatively heavy utensil used to chop through meat, cartilage, and bone. Compared to other kitchen activities, these are the highest impact uses one would need from a kitchen knife. The strength and durability Damascus steel possesses make it an ideal material to craft such a knife while guaranteeing plenty of use and long life.
Most other kitchen uses can be lumped together as those requiring a sharp and long lasting, keen edge. Damascus steel is high carbon steel known for maintaining a sharp edge for a long time, which makes it ideal for chopping, peeling, slicing, and dicing, for prolonged periods of time and with daily usage.
Our Specialty
At Grizzly Blades, each one of our handmade Damascus steel knives is crafted at our workshops in Toronto (CA). They undergo strict quality control measures to ensure flawless products at unmatched prices. Each knife comes with a tailor-fitted leather sheath which allows excellent portability for the traveling chef, as a leather sheath does not blunt a knife's edge or scratch it any further. Additionally, each knife has a handmade, custom-built handle that fits the knife securely and you can rest assured that you won't find the handles jiggling around like most knives!
To find our complete collection of Damascus steel custom handmade kitchen knives, and knives tailored for other activities, visit our store.
---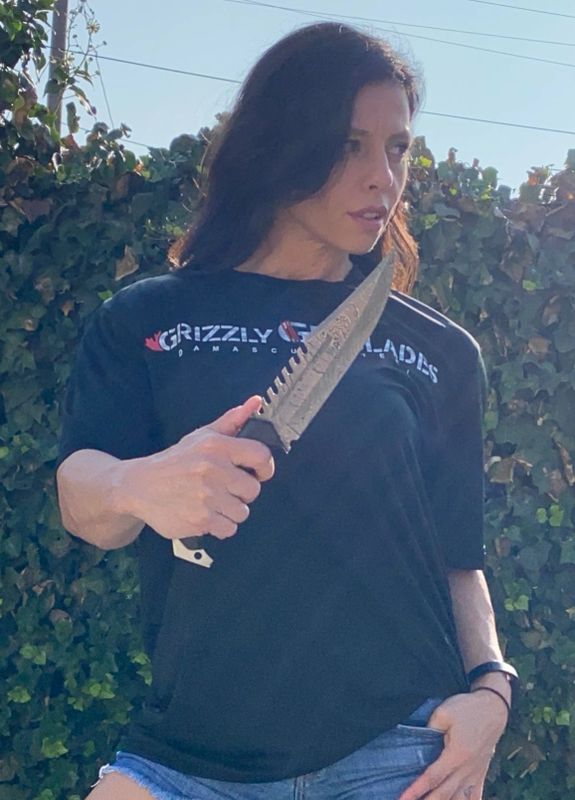 Custom Handmade Damascus Steel Knives
Damascus steel knives are regarded by many as the best knives in existence. They are also considered to be the ultimate collector's knives because of their historic value and legendary reliability. With its wavy protrusions designed in a variety of different patterns, you can count on the blade to perform no matter what the job is.
Learn more through this blog for the details about Damascus steel and find answers to the most commonly asked questions about knives that are made from Damascus steel.
FEATURES OF DAMASCUS STEEL KNIVES:
Custom handmade Damascus steel knives do not need to be sharpened as often as other knives. Damascus steel's wavy pattern actually protects your knife, making it last longer than regular steel. This unique steel is highly prized for its beautiful aesthetics, but what it lacks in toughness, it makes up for by being extremely hard and flexible while maintaining a sharp edge.
Forged from one piece of high carbon steel, this knife is hand-polished on both sides and these ornate patterns are formed by hammer-wielding the pieces of steel together. This stunning pattern makes these knives stand out!
HOW ARE DAMASCUS KNIVES MADE?
The best custom handmade Damascus steel knives are made from hundreds of layers of metal welded together, then forged, beaten, and manipulated to form their unique pattern. They are then folded and flattened to produce the organic pattern that defines them. Today's version of this ancient process is generally referred to as the "pattern welding" process, but old-school Damascus is still produced primarily by forge welding different types of steels together before beating, twisting, and manipulating the metal or by flattening out and then folding a single type of steel to produce layers in the metal.
One of the most treasured metals in the world, Damascus steel has been used by countless blacksmiths for generations. Although modern-day Damascus steel may appear similar to ancient Damascus steel, they are actually completely different materials.
HOW TO TAKE CARE OF A DAMASCUS STEEL KNIFE:
Custom handmade Damascus steel knives are known for their dramatic beauty and durability. No one likes to invest all this time into a knife only to have it end up being just a part of your kitchen. Therefore, such a knife requires extra care so that it can be enjoyed daily and not just when you're cooking.
Careful selection, care, and maintenance will help you prolong the life of your Damascus steel knives. It is important that you keep the blades dry and clean to avoid rust and staining.  You can remove the etched oxidation that makes the blade's pattern visible using a rough cloth or metal cleaner.
If you want to know the difference between a Survival Knife and an everyday utility knife, try to sharpen your own Damascus steel knives. Soon after washing a Damascus steel knife, you should lubricate the blade with a special wax to protect it from moisture. Keeping the blade away from rust makes sure that the steel's pattern remains as striking and vivid as the day it was hand-forged.
There are several things that you must keep in mind while storing your Damascus steel knives. These knives have to be stored in a dry interior environment, free from fluctuating moisture levels and temperature. A box or a soft case is definitely required to store these knives.
TYPES OF DAMASCUS KNIVES:
Following are some of the best Damascus steel knives having many different styles you can choose from and several benefits which you can gain by using them in your kitchen.
Chef's knife: Its blade provides the knife with incredible strength, enhanced flexibility, and hardness. 
Utility knife: The jack of all trades. This one is the high-performance solution for all your kitchen tasks
Meat Knife: Razor-sharp blade of this knife is handmade and works perfectly for slicing, butchering, and serving any kind of meat.
Cleaver knife: This one is a useful tool for brilliant chopping efficiency, such a knife is a chef and butcher's best friend.
Now that we've got through the basics to consider before taking the final step.
You should have a look through our esteemed selection of custom handmade Damascus steel knives over at www.grizzlyblades.com. With a variety of handles, blade designs, and sizes you're likely to find a knife that fits your needs.
---
Things you should know about Damascus Steel
  If you have never heard of Damascus Steel before, you probably have never actively looked for collector's knives. In this post, we will tell you all there is to know about the material.
Legendary material, now lost to time
Any enthusiast would recognize Damascus Steel to almost be from mythology. This is because it was an ultra strong steel alloy forged with different types of metals around Syria and areas nearby from around 750 to 1750 C.E. The distinguishing feature was its strength, sharpness and a watery design on the blade that was a result of metals beaten in high temperatures.
What makes Damascus Knives so special?
Apart from the manufacturing process and the unique combination of steels, the simple reason for choosing articles made of Damascus Steels is that they are sturdy, strong, reliable, long lasting and very attractive. The knives usually also have specialized handles that give them a comfortable and fast grip, which makes them ideal for just about any purpose.
The Aesthetic Value
As mentioned above, these knives are beautiful. Damascus steel knives have a wave-like pattern that appeals to consumers. They also come in a variety of different patterns which is fun to collect and their timeless design makes them an investment for the ages.
Razor Sharp Cuts
A knife is only as good as its edges and Damascus knife blades score full points in this regard. Since they are made of a combination of low carbon and high carbon steel, the low carbon steel wears out quicker which causes the knife to cut faster. Not only are they sharp, they are also low maintenance and longer lasting.
To put it simply, they need to be sharpened less frequently when compared to other knives. Further, if you have a pattern welded Damascus knife, then there is a high likelihood that they are made of stainless steel so they won't rust either.
The Composition
There is no one standard formula for creating Damascus Steel. Instead, it refers to the method  that is used to produce the blades. While all 'modern' Damascus Steel blades are a combination of different alloys of steel, they can be of different types and any number of alloys can be used to make the steel for any particular purpose.
This makes each blade unique since its creation and composition may be completely different from another Damascus steel blade. Also, as mentioned above, casting two or more steel alloys together creates a one-of-a-kind pattern that looks absolutely beautiful. Because of the reasons mentioned above, Damascus Steel knives are a weapon, tools, collector's item and a piece of art.
Types of Damascus Steel available today
This is the original Damascus steel which was made in India. However, the skills needed to make this have been lost and now there are very rare pieces left that are made of original Damascus Steel. Although there has been a lot of research and attempts to replicate the original material, to date there has been no success.
Pattern Welded Damascus Steel
This is the type of Damascus steel that is available today and is made by two types of steel layered together and hammered to high temperatures so that the two materials are forged into one. This gives Pattern Welded Damascus Steel a watery pattern which makes it look quite similar to the original cast Damascus steel. Appearances, however, can be deceiving and what gave Damascus Steel its distinguishing traits was its manufacturing process and composition, both of which have been lost to time.
However, as the Pattern Welded Damascus Steel is the closest we can get to the original today, there are many copies available in the market today. Some items have metal surfaces etched on them to replicate the patterns, these are cheaper and more easily available. It should be noted that though the fakes look pretty, these patterns will fade with time while pattern welded steel will keep its patterns and sturdiness for years.
Common types of Damascus Steel Knives
Some of the most common items made in Damascus Steel are knives. These can be the common use kitchen knives, or:
Folding knives or pocket knives
Flip-Flop knives
Hunting Knives
Carving knives
Rigging Knives
Skinners
Bowers
Serrated Knives
If you are looking for premium high-quality Damascus Steel knives, Grizzly Blades has a collection that includes a treasure for every enthusiast. Whether you want a Damascus Steel item for practical usage, to add to a collection, or for a gift to someone who would appreciate it, we are sure you will find what you need. Though based in Toronto, we offer worldwide shipping so distance is not an issue in getting you your new favorite blade!